Hard Lessons
COVID wreaked havoc on New York's already-struggling education systems. Nearly three years in, what have we learned?
The pandemic was deeply disruptive to every aspect of New York life, especially for those who rely on its education systems. New challenges have emerged and longstanding issues have been exacerbated — from learning loss in the classroom to lockdowns preventing lessons at Rikers Island. With coronavirus cases rising once again in the city, problems will surely persist.
Yet New York is also showing signs of hope and adaption, from a scientist teaching astronomy on a West Harlem sidewalk and students advocating for a vote on their own education to a Sunset Park family pushing for greater accessibility in neighborhood schools.
These stories take a look at how New Yorkers will always fight for — and figure out — ways to learn.
When Nearby Is Out of Reach
From left to right, Laura Espinoza and her daughter Britney, William Zhumi Hidalgo and his mother Lidia Hidalgo. (Photos/Naoufal Enhari)
Inaccessible neighborhood schools force special-ed students into long commutes.
By Naoufal Enhari
Edited by Kiara Thomas
On a sunny fall afternoon, William Zhumi Hidalgo, 12, struggled to roll his wheelchair up a handful of steps leading to the hillside Sunset Park in Brooklyn. His mother instinctively walked behind him, in case she needed to help him climb the park's steep entrance.
This moment at the stairs was indicative of the countless hurdles William faces in his everyday life, which includes a long commute to a school that can provide him with the accessibility services his neighborhood schools cannot.
In the 2021-2022 school year, there were 217,688 students with disabilities in the city's public school system. That's one in five students.
Schooling for students with disabilities has been long hampered by a range of accessibility and education issues, including shortages of preschool special-ed classes, inadequate literacy instruction and behavioral support, problems with transportation and a consistent failure to provide translation and interpretation services.
The problems are especially prevalent in low-income and immigrant neighborhoods.
In Sunset Park, more than 60 families—including 37 who are Spanish-speaking—have at least one child or with disabilities who must attend a school outside of the neighborhood because of accessibility issues, said Laura Espinoza of Visión Futuro, a support group for families with special-needs children. The actual number might be higher given that some parents are reluctant to publicly communicate about their children's disability, she said.
The hardship on families
Public school buildings vary in levels of accessibility. Almost 400 out of 1,400 public schools have a Building Accessibility Profile ranking of five or below out of 10. More than 700 are deemed partially accessible, according to data from the DOE's Building Accessibility Profile.
"It's a really unjust and inequitable system," said Maggie Moroff, senior special-education policy coordinator at the nonprofit Advocates for Children of New York. "And the more resources the family has, the more likely they are to be able to navigate the system, to understand it, to supplement it, and all of those things."
William has spina bifida, which has paralyzed him from the waist down. He also suffers from hydrocephalus, an abnormal buildup of fluid in the brain, which makes it difficult for him to concentrate and causes other health issues.
Since no middle school in Sunset Park provides access to an elevator and medical and academic support, his mother, Lidia Hidalgo, said she was forced to opt for an accessible school outside their neighborhood, in Kensington.
But because he lives outside of that school's zone, the bus that picked him up as the first student in the morning also dropped him off last in the afternoon. His daily commute totaled more than three hours.
"It's too much time on the school bus. It's not good for him, it makes him dizzy and unable to concentrate," Hidalgo said.
According to the DOE, most students with disabilities attend their zoned or district school. Others attend specialized programs in district schools or a school that meets their specific accessibility needs.
William's parents said they had to make costly choices so he wouldn't have to take the long bus ride twice a day. Now, his father drives him to school every morning, consequently giving up full-time employment as a truck driver to wait tables in the evening, Hidalgo said.
Hidalgo, a house-keeper, has also given up work opportunities to be able to check on William at school during the day and give him the personal and medical care he needs.
"It's too much," said Hidalgo, who moved from Mexico to Sunset Park 22 years ago. "I go there two to three times a day. And sometimes when there is a problem with the bus, they call me from school and I end up going for the fourth time to pick him up."
Nearly one in five students in New York City public schools has a disability.

DOE's officials testifying at an education committee hearing at City Hall on Sept.21, 2022.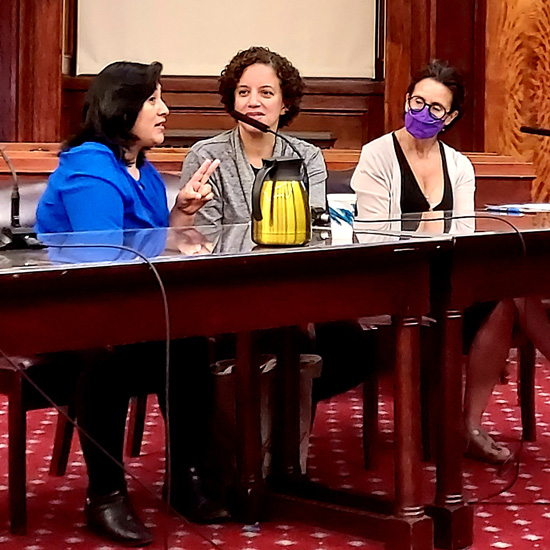 Laura Espinoza (left), founder of Visión Futuro, testifies at a City Hall hearing on special education, on Sept. 21, 2022.
An urgent need
The DOE needs to immediately "evaluate the needs for special education in Sunset Park and other communities" to provide the necessary services, said Espinoza, a longtime advocate for better access to special education in immigrant communities.
"This will save time, effort, and money" for the city, parents, and students, she said. Longer commutes affect children's wellbeing and academic performances.
When asked if the DOE was aware of Sunset Park schools' accessibility problems and what measures are being taken to address them, a spokesperson responded with an emailed statement: "Every New York City student is entitled to a school that has the full range of programs and services that they need to reach their full potential. We are committed to building high-quality public school programs to serve all of our students with disabilities."
At a City Council oversight hearing on Sept. 21, Education Committee Chair Rita Joseph (D-Brooklyn) said the DOE's special education system was "broken."
The department, she said, is "failing year after year to provide students with disabilities with the instructions and support they need to succeed in school."
"It's going to be a very, very long time before New York City public schools are fully accessible across the board."
For the time being, William and his mother remain hopeful that by next year, he will be able to attend an accessible high school in Sunset Park. On the DOE's website, Sunset Park High School is marked as accessible, PS 371 is not.
"I really hope so," said Hidalgo. "We can't go through all this again."
A Few Feet and a World Apart
Earth School parents watching their children line up before school. (Photos/Safiyah Riddle)
 At two East Village schools, racial and socioeconomic segregation persist.
By Safiyah Riddle
Edited by Zoltan Lucas and Caithlin Pena
Leslie Daly and Ramona Cepeda both chose schools for their children the same way: through word of mouth.
Like many other parents at the Earth School in the East Village, Daly, 47, enrolled her daughter there because it had a good reputation among parents she knew.
"I heard about the progressive schools in the area from a group called 'Bowery Babes' – a listserv that is affiliated with a prenatal yoga class that I took on Bowery Street," said Daly, a psychologist.
While touring the school four years ago, she said she didn't consider sending her daughter to PS 64, the elementary school that shares the same East Sixth Street building.
Cepeda, 33, also made her decision to send her two daughters to PS 64, where they are now in the first and third grades, based on the opinions of those she trusted.
Entrance to the Earth School.
Leslie Daly walking her daughter to school.
Ramona Cepeda walking with her two daughters, 5 and 7 years old, home from school.
Despite years of activism and a state-funded $1.25 million district-wide integration effort in 2017, the shared address seems to be where the similarities between the schools end.
More than 90% of the students at PS 64 come from families living at or below the poverty line. Ninety-one percent of the students are Latinx and Black. At the Earth School, 53% are Latinx or Black, while 29% are white. There, a little over half of the students are at or below the poverty line. The districtwide poverty rate hovers around 65%.
The Earth School — like its neighbors the Children's Workshop, the Neighborhood School and the East Village Community School — is considered "progressive" because there is little focus on homework or testing, and teachers go by their first names. The curriculum at PS 64 prioritizes performance on standardized state tests.
Different strokes
On the last Friday of every month, all Earth School students are dropped off at the recess yard to sing the school anthem in unison. This September, Daly dropped off her daughter and joined a group of parents pouring coffee from cardboard cartons. The school promotes these monthly gatherings as a way for prospective parents to supplement the school tours that every elementary school offers.
Abe Werentiel, a father of a fifth grader at the school who joined Daly at the anthem singing, said parents "don't come because of Manhattan or the area. They specifically wanted the Earth School. It is a destination school."
Parents at PS 64, however, go to an entrance at the opposite side of the building to drop their children off on any given Friday — without ceremony.
Cepeda, who had not heard about the Earth School gatherings when she was looking for schools, wasn't thinking about school anthems when she moved from public housing in Williamsburg to the Wald Houses on the Lower East Side five years ago.
Instead, Cepeda sought a school that would offer her daughters the most support to improve their reading skills. Both girls, who primarily speak Spanish at home, were behind state standards for reading when they first enrolled in PS 64.
"They were in another school in Brooklyn," Cepeda said, "and I think for them, PS 64 is much better because they don't read too perfectly, and I have more help here with writing and reading."
Cepeda works overnight shifts as a home health attendant. The girls' grandmother drops them off at school in the morning. Cepeda picks them up around 6 p.m. from the after-school program funded by the city Department of Youth and Community Development. Cepeda, who moved to New York from the Dominican Republic when she was 17, said she still didn't feel comfortable with her English and needed the additional support.
Johnell Emery, director of the PS 64 after-school program, said that Cepeda's experience was common: "A lot of times, some of our families don't really understand how to do the homework — it could be an educational barrier or a language barrier. But to have a program that the kids can go to where students are getting extra help and extra tutoring, it's a plus for students."
As the cacophony of school dismissal settled, Emery walked down the PS 64 hallway to check in on students working quietly in classrooms. In November, students write holiday wishlists, which are then sent to an anonymous donor who donates a present to every student.
Emery's program enrolls nearly 70% of PS 64's students and only five students from the Earth School, which offers its own private after-school program called Green Apple Kids.
Much like the Earth School itself, Green Apple Kids emphasizes "unstructured learning" and encourages students "to decide how they want to learn," according to the program director, Liza Mendell. Parents can opt in to more structured tutoring, but Mendell says most of the 75 students enrolled — roughly a quarter of Earth School students — do not choose to do so. Mendell says the program charges tuition based on what families can afford.
Daly sends her daughter to the program a few times a week. She said she appreciated the emphasis on creative and critical-thinking values.
A gap in funding
In spite of the disparities, both Cepeda and Daly said they felt content with their choice of school. "I feel so happy with this place," Cepeda said of PS 64.
For others, the differences between the two schools are extremely troubling.
Jia Lee, who has taught at the Earth School for nearly 15 years, said that the children were aware of the differences between the two schools.
"We hear things from the kids sometimes," recalled Lee, the local chapter president for the United Federation of Teachers, a union that represents most teachers in New York City public schools. "For many, many years there's been a distinct racial divide, and so there would be kids saying things about the race of the other schools."
Such comments are rare, Lee said, and there is always swift action from teachers to address such sentiments, but that often means that, "for the most part, the students are just kept very separate" and don't engage with one another, Lee said. Lee's own child recently graduated from the Earth School.
Under New York's Fair Student Funding law, individual school budgets are determined by the number of students living below the poverty line or with learning disabilities. This means that PS 64 receives nearly $5,000 more per pupil annually than the Earth School does. But there is a severe disparity in Parent-Teacher Association funding between the institutions. In 2019, PS 64 fundraised $5,012 from parents and donations—amounting to an average of about $25 per student. In the same year, the Earth School fundraised $116,000—about $330 per student.
Because government funding is earmarked for specific expenditures, the donations mean that the Earth School has more money to spend on initiatives its parents deem valuable.
Matt Gonzales, former policy director at the nonprofit New York Appleseed advocacy group and  one of the architects of the original integration plan, also argued that the Essex Street resource center created in 2017 was not designed to reach wealthier parents.
Those parents "don't go to a district resource center to make enrollment decisions," Gonzales said. "They either have the time and tools to do it themselves or they pay someone who can help them navigate the public school system."
NY-based veteran educator Jose Vilson in his classroom. Vilson works to advocate for educators of color and underrepresented students with his nonprofit EduColor. (Photo courtesy of Jose Vilson)
Why are so few Black men teachers in New York City?
by Amaya McDonald
Edited by Uvie Bikomo
Black students make up around a quarter of the city's more than one million public-school pupils. However, Black instructors are disproportionately underrepresented among the faculty who teach them.
Only 19% of educators in New York City's public schools are Black—and only 4% of the city's educators are Black men. 
The scarcity of Black men is glaring for a system in which Black male students  are more likely to be chronically absent and are among those least likely to graduate from high school in four years. 
To better understand this disparity, the NYCity News Service spoke with educators, students and activists of color to examine why the problem persists—and the ways it could be solved.
University of Maryland professor Corey Carter works toward generating more highly-skilled Black male educators in the country. (Photo courtesy of Research Graphics at UMBC)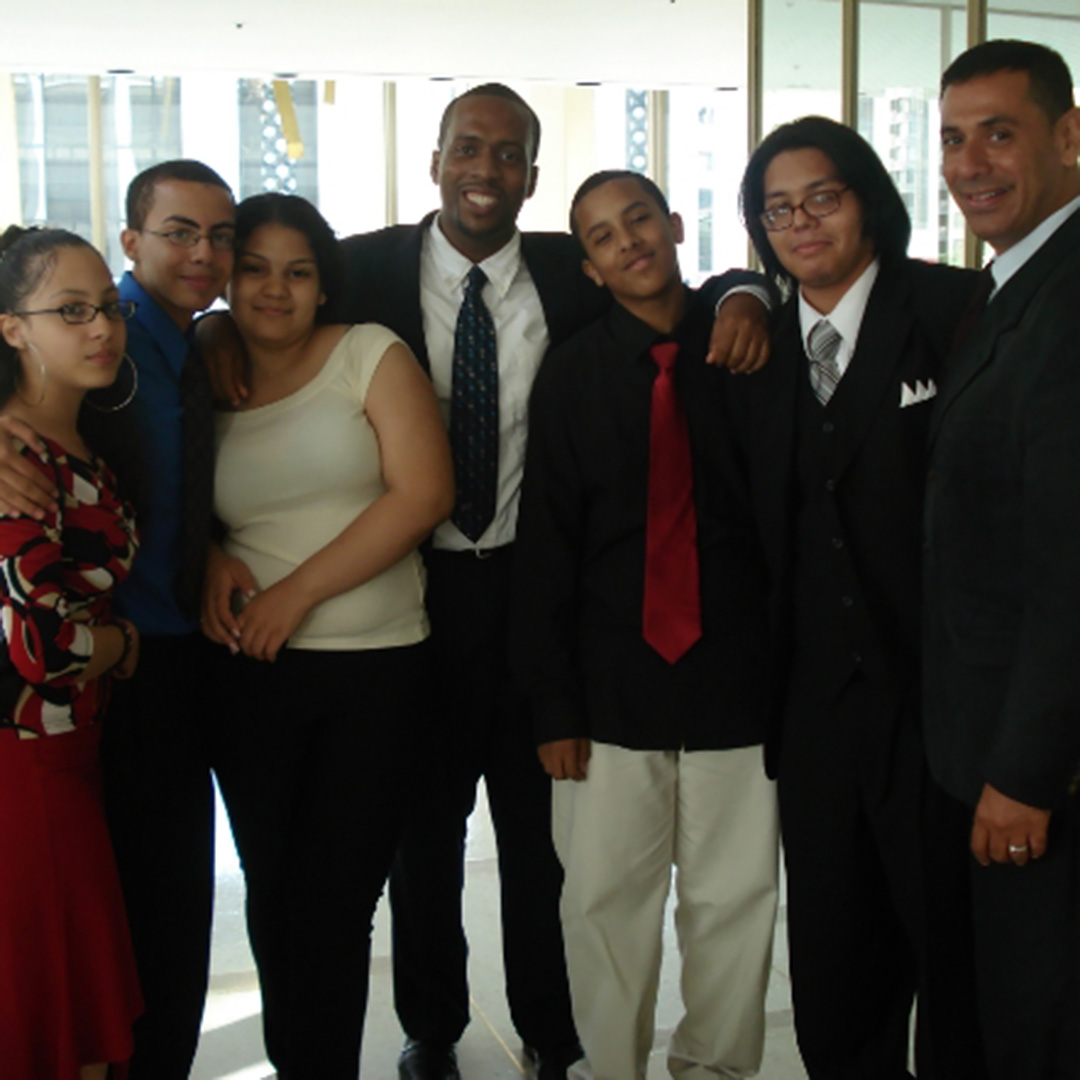 Vilson and his students at the Lincoln Center after a NYC Teaching Fellows induction speech during his first year as an educator. (Photo courtesy of Jose Vilson)
Bilingual teacher Angel Bautista says he found purpose in connecting with students that relate to his culture and identity. (Photo courtesy of Angel Bautista)

"If you've been through school and you've been traumatized, abused, challenged, or questioned, that's not really an affirming space that you want to go back to."
Why are there so few Black men in NYC education?
Experts say Black men often leave teaching because the pay does not match the amount of work and education required for the job.
Jose Vilson, executive director and co-founder of EduColor, an organization dedicated to social justice issues in education, said notoriously low salaries are a major deterrent. Public school teachers  must complete the kind of professional certifications and higher education programs required of more lucrative careers. Yet they only receive a starting salary of $61,070 in New York. 
"We have the similar rings that we have to jump through, and yet time and again, we're not seeing salaries match that level of expertise and certification," Vilson said.
Black male educators also leave the field when they bump up against cultural expectations about the markers of success.
Corey Carter, assistant director of the Sherman Scholars Program at the University of Maryland, Baltimore County, works to increase the number of highly skilled Black male educators. He believes Black success often does not look like becoming a teacher; it's not necessarily a profession held in high regard.
The challenges faced by Black students are another reason they may not want to return to the classroom as teachers. 
"It's like returning to the scene of a crime," Carter said. "If you've been through school and you've been traumatized, abused, challenged or questioned, that's not really an affirming space that you want to go back to."  
According to a poll by DonorsChoose, a nonprofit that supports public schools, Black teachers of all genders carry "additional responsibilities due to their race" and "spend more time mentoring and counseling students than teachers of any other demographic."
Rather than teaching in the classroom, they are sometimes hired to work in administrative positions as deans or assistant principals. This means Black educators are often asked to act as disciplinarians.  
"They are the folks who are going to take all the 'bad kids' and they're going to 'straighten them out,'" Vilson said. "That's why you see so few [Black male teachers], because of how many Black men that really feel like their interest in working with children is about disciplining them. That's not healthy or sustainable for anybody—much less for folks who are already disenfranchised in their own work."
"I feel like as a man of color, living in New York City, you have a lot of potential to teach and transform the lives of many, many kids."
Why are more Black male teachers necessary in city schools?
To teach a diverse student body, faculty must also be diverse. Non-Black teachers, advocates say, are often lacking in cultural competence, an understanding of students who come from backgrounds different than their own.
This concept requires educators to develop personal and interpersonal awareness and sensitivities, as well as an understanding of nuanced cultural signifiers such as African American Vernacular English. Ideally, these skills would lead to culturally responsive teaching and a lower likelihood of non-Black educators punishing or suspending students based on unconscious biases.
Muhamade Dukuray, a 26-year-old education major at the City University of New York's Borough of Manhattan Community College, never had a Black male teacher. Being suspended multiple times in middle school left him feeling that his non-Black teachers did not take the time to understand how he reacted to his world.
"I used to fight to prevent being bullied," Dukuray said. "They used to suspend me straight home. After that, they saw that was of no effect. So there was in-house suspension."
Reasons for suspension or expulsion often include cutting class, unexcused lateness, disruptive behavior and using obscene language. Though students of all races can be cited for these behaviors, Black male high school students in the city were suspended more than twice as often as their peers in 2019.
Suspensions and expulsions can help lead to the "school-to-prison pipeline," advocates say,  which disproportionately affects Black boys.
Marcus Carlos, who is now a middle school teacher, said he was suspended more than once as a city school student. The presence of more Black male educators would help decrease suspension and punishment rates for Black students, he said.
"If you put Black men in a position to help teach and lead these young Black boys," he said, "it would help them out in situations where teachers that are not Black men can now understand the reasons why they do these things."
What's being done to fix this?
In recent years, many organizations have been created to increase representation in education. One of those initiatives, NYC Men Teach, recruits men of color to become educators.
Supported by CUNY, the city Department of Education and Teach for America, the program offers college students professional development and mentorship opportunities aimed at resolving racial disparities.
Carlos, a NYC Men Teach fellow, said the early career support helped him understand how to run a classroom. "The workshop system really helped me out as far as professionalism and in my development in moving up from a teacher's assistant to a teacher," he said.
Angel Bautista, another NYC Men Teach fellow, said the program provided him with crucial guidance when he transitioned from physical education to the classroom.
"When I first started my program in bilingual education, I was really lost in a sense," he said. "They showed me how they were going to help me, what were the intentions, what were the goals. And everything was so clear. I think the goal setting was really important because they kept me on track."
Bautista said the positive aspects of his job make teaching worthwhile.
"If you become a teacher, you don't do it for the money," he said. "It's really like a passion that you have within you. But even if you're skeptical about it, I feel like as a man of color, living in New York City, you have a lot of potential to teach and transform the lives of many, many kids, especially our boys."
An Oasis in a Film Desert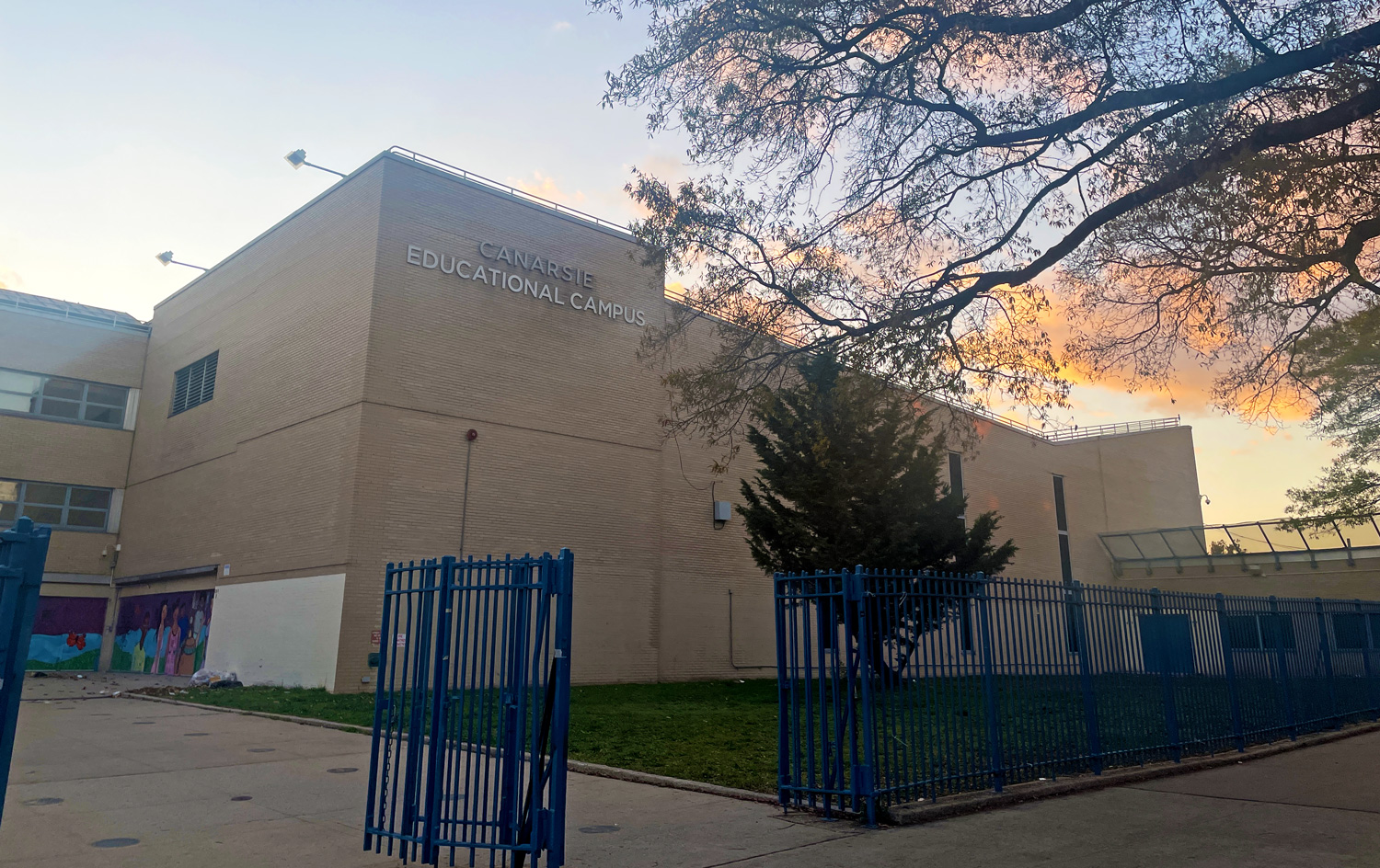 The Canarsie Educational Campus contains three of the 13 public high schools in NYC's school district 18. (Briana Ellis-Gibbs)
Canarsie advocates hope to revitalize arts education.
By Maja Clasen
Edited by Austin Cope
On a chilly evening in October, the South Shore High School athletic field in Canarsie was the place to be—if you're a teen who likes anime, that is. 
Around 30 young people grabbed their blankets to watch "Belle," a 2021 Japanese science fantasy movie projected on the big screen in the middle of the field. They huddled together, captivated by the music and colors. Some girls even gushed over the lead male character when he came onto the screen.
"It's always the same feeling at every screening," said PaleFO Cinema founder Eileen Level, who has organized a handful of these screenings in the Brooklyn neighborhood since May. "It's just that feeling of when everybody is engaging with the movie… it's when there's a sense of unity and, like, you can hear it through a laughter, or through, like, a jump-scare.
Level's mission with PaleFO—meaning "speak up" in her first language, Creole—is to provide a space for everyone, but especially teens, to engage with film in the neighborhood she calls a "cinema desert." The last film theater in the area, Canarsie Movie Theater on Avenue L, closed in 2004.
"We owe it to ourselves to show people that Canarsie can be this space that offers a quality life, like access to quality life in schooling, in foods, in arts and culture, entertainment," said Level, who moved out of the neighborhood for college and now resides in nearby Spring Creek. "And we're lacking."
With her community-centered initiative, Eileen Level hopes to reach underrepresented teens and young adults to show them the magic of movies. (Maja Clasen)
As a biracial woman who grew up in the area in the '90s, Level is now trying to empower youth living in the predominantly Black neighborhood. She hopes to bring her movie screenings a step closer to kids and teens creating their own movie-screening clubs. 
A moment from the film that stuck out to Sav Avery, a 19-year-old in Canarsie who volunteered at the free screenings over the summer, was "the amount of fun the kids and adults had," she wrote in an email. "It gave the community [the chance] to come together without …any form of danger."
State Sen. Roxanne J. Persaud (D-Brooklyn), whose district includes Canarsie and Brownsville, said that arts can help combat the damage of crime. Although the neighborhood's rate of violent crime has been down over the past year, the NYPD has reported an increase in robbery, burglary, and larceny in 2022. 
"Anybody who is willing to bring a program here that will pique the interest of the students at school—and keep them motivated and out of trouble—that is all in line with us decreasing the level of violence that they're experiencing," Persaud said. 
"We owe it to ourselves to show people that Canarsie can be this space that offers a quality life… in schooling, in foods, in arts and culture, entertainment. And we're lacking."
The positive impact of arts education
Involvement with the arts can have a huge difference in outcomes for students, according to Kimberly Olsen, executive director of the New York City Arts in Education Roundtable, a nonprofit group dedicated to advancing arts education in New York City schools. 
"There's a direct correlation between arts participation and things like graduation rate, academic performance, student attendance," Olsen said. "There's so many benefits to having arts education in your schools, not only for the sake of having arts and having a rich, vibrant thriving school community, but also just for supporting the whole child as well." 
Arts education in Canarsie-area schools falls short, according to the Arts Education Data Project.
For the 2019-2020 school year, the latest one for which information is available, New York Geographic School District 18—which includes Canarsie— had the second-lowest arts enrollment rate of all 32 city districts, with less than three-quarters of students enrolled in at least one arts course. The district also falls below Brooklyn-wide and statewide rates.
While 91% of schools in the district offered at least one arts course, only 13% provided access to four separate arts disciplines, such as dance, music, theater and visual arts, as required by the State Education Department. Brooklyn's total rate of schools that provide the required course offerings is double that of Canarsie. 
Overall funding for arts education in the city has seen some ups and downs over the past few years. Following a 2014 city comptroller's report identifying a lack of access to arts instruction from certified arts teachers in the South Bronx and central Brooklyn, then-Mayor Bill de Blasio boosted arts funding with an increase of $23 million. Under Mayor Eric Adams, however, the schools have faced an estimated $469 million in overall cuts.

And this is coming after a pandemic that "particularly impacted" arts education, with some teachers having to fill non-arts positions and dedicated arts spaces repurposed as socially distanced classrooms, according to the 2020-2021 Arts in Schools Report.
"There's so many benefits to having arts education in your schools, not only for the sake of having arts and having a rich, vibrant, thriving school community, but also just for supporting the whole child as well."

The possibilities that lie ahead in Canarsie 
Beyond Canarsie, Level's screenings have also garnered the attention of educators. Danielle Duroseau, an elementary-school social worker at the Riverdale Avenue Community School in Brownsville, was a high school classmate of Level. She reached out after seeing an Instagram post about a PaleFO screening.
"Bringing that opportunity to Black and brown kids in their neighborhoods is absolutely amazing," Duroseau said. "And it's phenomenal work that she's doing."
Duroseau hopes to see Level's film program ideas implemented in her school. 
"We want to bring these types of opportunities to our kids," Duroseau said. "Bringing the theater to our students and our community—it would be something great." 
While her after-school program plan is still in the works, Level hopes to inspire others to be a force for positive change.
"We need to do better," Level said. "We need to do a better job at providing recreations for them to do things. And the funny thing is, when you have recreations that are family-friendly, but also specifically teen- and young adults-friendly, it can shift the whole community. And the community needs to be revitalized through that lens." 
The Learning Loss Shaking the Bronx
On a dreary December day, students walk to the building shared by PS 30x the Wilton School and the American Dream Charter School in Mott Haven. (Photos/Demetria Osei-Tutu)
How the pandemic exacerbated low test scores.
By Yi Liu
Edited by Chloe Bennett
When Fahmida Reba started her first job as a school psychologist in the South Bronx last year, she was surprised by how many parents were worried about reading levels. 
Parents in PS 30x Wilton in Mott Haven—concerned that their third-grade children are reading at the first-grade level—told her they fear the lasting impact of remote learning. 
"Reading affects everything," she said. "If you're having trouble with reading, then you're going to struggle in all areas."
New York City students have indeed struggled academically.
According to the city Department of Education, reading scores dropped sharply for Bronx students in grades three to five this year—40% of third graders scored proficient in reading in 2019 compared to 30% in 2022. At PS 30x Wilton, scores were much lower than the borough's average — only 15.9% of students passed the reading portion of the exam, and 12.7% of students passed the math portion. By comparison, 78% of students at PS 158 Bayard Taylor on the Upper East Side of Manhattan were proficient in reading and 77.5% were in math.

According to the city's Department of Education, reading scores dropped sharply for Bronx students in grades three to five this year — 40% of third graders scored proficient in reading in 2019 compared to 30% in 2022.

The same building houses PS 30x the Wilton School and the American Dream Charter School in the Bronx. Students are back in-person now, but test scores from PS 30 and other Bronx schools have highlighted the ongoing impact of remote learning during the pandemic.
This year was the first time all students were tested since the pandemic began. Last year, many students in New York City did not take the test because parents were less inclined to send their children to school for it. The results showed the pandemic's effect on students in stark terms. Their academic progress slowed when schools moved to remote classes, particularly among Hispanic students and those from low-income families.
"I saw the difference since COVID. Everything is slow," said Aliyah Cook, 26, whose 7-year-old son attends PS 30x Wilton. She said remote learning was less efficient than being in person. "I have to spend more time to help my son study at home."
Cook is still determining if she wants to send her second child to the same school next year and is even considering moving. She said she has problems with the neighborhood's safety and education options. 
The pandemic exacerbated existing problems within the South Bronx. In 2020, the borough had the highest unemployment rate in the city. It's also the city's poorest borough, with more than 24% of its residents living below the poverty level. As of 2021, one in seven Bronx students was experiencing homelessness, according to the nonprofit Advocates for Children. 
"Reading affects everything. If you're having trouble with reading, then you're going to struggle in all areas."
Clarisa Alayeto, program coordinator for Dream Charter Schools in the Bronx, said many families in Mott Haven are dealing with tough circumstances that don't allow them to be active in their children's education. There are also language barriers and basic needs that have gone unmet. 
"A lot of our kids have parents in the criminal justice system. A lot of our kids are dealing with not having heat, hot water," Alayeto said. "A lot of our kids are in shelters. So there's so many things to factor in when we talk about how do we get our kids to perform or close the gap."



At PS 30x Wilton, Reba said students struggling with math and reading are now receiving individual tutoring or studying in small groups to make up for learning loss. Some students are also able to get the extra services they missed out in the pandemic, like speech and occupational therapy. 
Students in New York City will take the test again next spring. With more time in the classroom this year, Natasha Atkins, executive director of the Bronx-based nonprofit Hunts Point Alliance for Children, believes things can turn around.
"We'll have to see [if] the test scores will increase, but I am hopeful," she said. "I am hopeful."
Rikers Fails To Make the Grade
A sign marks the entrance to Rikers Island, leading to the bridge that connects the island facility to Queens. (Photos/Jimmie McKinney)
Lockdowns and other restrictions stifle attendance at its East River Academy.

By Liz Rosenberg
Edited by David Westenhaver
The salutatorian for the June graduating class at the East River Academy, a school for incarcerated people on Rikers Island, used his speech to express his gratitude — and make a plea.
James thanked his teachers, who he said made him feel human during his time in jail, according to a transcript from the ceremony. He also implored Louis Molina, the city Department of Correction commissioner, to do more to ensure detainees could make it to classrooms each day.
After starting at East River Academy, James — whose full name was not given in the transcript — was moved to a different Rikers housing area where he couldn't access any of the island's five school sites. At other times, lockdowns kept James and other detainees in their cells during class hours.
Commencement season continues in New York City.

This morning, @NYCMayor delivered a commencement address to East River Academy's Class of 2022 on Rikers Island.

Congrats to all the grads! pic.twitter.com/6Isvmtnjbn

— NYC Mayor's Office (@NYCMayorsOffice) June 14, 2022

"It was like we lost a connection to our humanity," James said in his speech of the days he wasn't able to attend classes.
The transcript of James's speech was verified by a former administrator who attended the graduation. James, who graduated from East River with a GED at age 27 and is now being held at an upstate prison on a burglary conviction, could not be reached for comment for this story.

State law requires that the Department of Correction and Department of Education provide school to young adults in custody who request it, and that students receive a minimum of three daily hours of education during the week. As of March 2019, that group has included those up to age 25.

At Rikers — which holds those awaiting trial and sentencing, and those convicted of crimes with sentences of one year or less — about 1,100 incarcerated people from 18 to 25 were admitted to the jail in the last three months of 2022, according to a recent DOC report. 
According to a DOE representative, only about 46% of the roughly 200 students enrolled in East River were attending daily as of November. The department has not published the required report that would document this figure. 
In the 2019 fiscal year, the average daily attendance in DOC school programs was 77, according to an agency report. It crept down to 60 the next year, and then 11 in 2021. In the 2022 fiscal year, which ended in June, the average attendance was 32. 
For those who try to enroll in and regularly attend school, lockdowns, restrictions on which housing areas can access DOE programs, and a lack of correction officer escorts have kept students out of class.
The vehicle entrance offers views of the Rikers facility, which houses detainees awaiting trial and sentencing, and those convicted of crimes with sentences of one year or less.
According to a DOE representative, only about 46% of the roughly 200 students enrolled in East River were attending daily as of November.

Both the DOE and DOC declined to comment on the impact of lockdowns on attendance and did not share any specific strategies to raise enrollment or improve the current attendance rate.
At a February Board of Correction meeting, Molina said that "flooding our facility with meaningful targeted programming and educational services will decrease idleness and in turn reduce violence." But critics say that his department has fallen short on delivering on these services.  
Crystal Baker-Burr, director of the Education Project at the nonprofit Bronx Defenders legal services group, said that she had 13 clients who had filled out the necessary paperwork to go to school but that they had not been escorted to the school site to enroll.
School leadership "gave us a beautiful PowerPoint presentation about how they would be tailoring programs, but I don't think the Department of Education is putting enough pressure on the Department of Correction to comply with mandates," Baker-Burr said. 
She argued that those mandates required Rikers detainees to be able to attend school regardless of where they were being housed. The Department of Education explained it slightly differently, and said anyone could be moved to a Rikers unit with access to DOE programming. 
But some of Baker-Burr's clients say moving to another facility presents safety risks they are not willing to take, like sleeping in an open dorm setting with a lot more people. She says her clients ask themselves: "How important is my education? Am I willing to risk my life for it?"
Multiple roadblocks
To attend school, detainees file an opt-in form. But there was no system in place to record whether school-eligible detainees were offered the form, according to a 2017 comptroller's audit that called the system to make school available "weak." 
Even if the proper forms are filled out, and students are housed in school-accessible areas, getting to classes is not guaranteed.
"Not everyone who intends to go to school is getting the escort that they need to make it," said Felipe Franco, a Correction Board member who regularly raises concerns about disrupted schedules. "I assume that's because they don't have the staff or because they are in lockdown."
When he visited Rikers in October, the turnout was just "a handful of students," Franco said.
In September, the first month of the new school year, there were 64 lockdowns at the complex housing most school-eligible detainees. Lockdowns — designed to reduce violence, according to Rikers officials — also make it difficult "to provide people in custody with mandated services," including school, according to a Board of Correction report.
Staffing shortages have been a major concern, especially since the beginning of the coronavirus pandemic. Officer escorts, like the ones who take detainees to school, say they now have "expanded responsibilities" making it difficult for them to consistently fulfill that role, Jacqueline Sherman, a Correction Board member, said at a board meeting.
"Staffing and violence issues have drowned out discussion of any basic provision of services," said Martha King, the former executive director of the board. "I don't know why we would assume they're getting to school." 
Detainees who can't enroll in school also lose the opportunity to work with a "transition specialist," a guidance counselor or social worker who helps students identify goals and checks in with them for six months after release.
"It was like we lost a connection to our humanity."

A chance to thrive
At Board of Correction meetings, members have stressed how classes are important for mental health and passing the time for incarcerated people.
Only 28% of 2019-20 East River Academy students were reading at high school level. Baker-Burr sees time on Rikers as an opportunity for students with low literacy levels to catch up toward their diplomas. That will give them more chances to advance once they're released, she added.
Increasing the number of detainees attending school could decrease the overall number of people in jail in the long term. A 2018 study "found that inmates participating in correctional education programs were 28% less likely to recidivate when compared with inmates who did not participate."
School also helps detainees recognize their potential and plan for their future.
"We help students identify what they have been through in the past so they can harness the power to reshape their future," one East River Academy teacher wrote in a description of a class project on Donors Choose, where instructors can seek financial support for purchasing class resources.
At a September Board of Correction meeting, Basimata Simmons spoke of her daughter, Mia, 24, who has been at Rikers since 2019 on a manslaughter charge. Her next court date is in January, according to DOC records.
Simmons mentioned that her daughter had received a four-year scholarship to college. "I want to see her thrive with this new opportunity," she said.
Edyson Julio, who says he receives funding from the Department of Correction to teach a course at Rikers called "The Philosophy of Us: Hip-Hop, the Streets and Our Futures," said learning while behind bars, whether aimed at a diploma or not, was always beneficial.
"There's basically no scenario in life where being educated or being smart makes it worse," he said. "It always makes it better."
Gabrielle Cayo says that there is a disconnect between those who vote on school boards and the students affected by the policy. (Photos/Demetria Osei-Tutu)
Student members on the city's school board say they aren't taken seriously because they have no power.
By Julian Roberts-Grmela
Edited by Lucy Papachristou
When Gabrielle Cayo started at Brooklyn Tech–one of New York City's highly-selective specialized high schools–she noticed some of her classmates and teachers treated her differently. 
Cayo, now a senior, felt many at the school—where the student body is predominantly Asian and white– "didn't take Black students seriously." Microaggressions were common, she said.
Black students "were treated like an 'other' and treated like we were less than every other student," Cayo, 17, said in an interview. "That made me feel like there needed to be changes."
Cayo threw herself into leadership opportunities at her school, like serving on the school's equity team and joining the Black Student Union, of which she is now president. She was appointed to the Chancellor's Student Advisory Council, which advises on citywide education policy. In her junior year, the council elected her to serve as one of two student representatives on the Panel for Educational Policy (PEP), New York City's school board. 
The catch? Student representatives can't vote.
The missing element
The push for students to serve on school boards is gaining traction nationally. Over the past five years, eight states have added at least one student member on their state board, created a student advisory council, or a combination of board membership and advisory council. Fourteen percent of the nation's largest school districts now have a student serving on their boards. But the vast majority of these young people–86% of student reps, according to a 2020 survey–do not have voting rights.
"There is a disconnect between the people who are voting and the people who are actually stakeholders. It feels like you go and speak about the issues and just kind of cross your fingers that someone was actually kind of listening to you."
Students like Cayo said they must convince the adult panel members to vote for their causes, creating a system where differing generational perspectives can clash. Nationally, battles over school safety, critical race theory and sex education have reached a fever pitch. In New York, debates about mental healthcare, metal detectors and school admission policies are top of mind. Students say that their perspectives—as the group most directly affected by the education system—need to trigger real and concerted action. 
"There is a disconnect between the people who are voting and the people who are actually stakeholders," Cayo said. "It feels like you go and speak about the issues and just kind of cross your fingers that someone was actually kind of listening to you."
Adult PEP members, like Kaliris Salas-Ramirez, the Manhattan borough president appointee, and Tom Sheppard, the vice chairman, agree that students should have voting rights on policy decisions. Salas-Ramirez said she had seen some of her fellow panelists dismiss the students' proposals when it is clear what they are asking for impacts them.
"Some of my colleagues in that space are like, 'Oh, they're so cute' and completely minimize their experiences and what they would like to see," she said. 
The Panel for Educational Policy was created by then-Mayor Michael Bloomberg in 2002 after he gained control over the city's schools from the State Legislature. Tasked with advising the city's school chancellor on educational policy matters, the panel has 15 voting members: nine appointed by the mayor, five appointed by the city's borough presidents and one by the presidents of the city's Community Education Councils (CECs). The legislature is set to expand the panel next year to 23 members, with four additional mayoral appointees and four additional members elected by CEC presidents—but no additional student members.
Over the past five years, eight states have added at least one student member on their state board, created a student advisory council, or a combination of board membership and advisory council. Fourteen percent of the nation's largest school districts now have a student serving on their boards.
The panel votes to approve city Department of Education contracts with external vendors, budget projections and major decisions like school closures. It also votes on systemwide rules for public schools, from cell phone, admissions and attendance policies to employee hiring and school budgets. But critics say that since the mayor has the power to appoint—and fire—the majority of its members, the panel is more of a rubber stamp for the city government than a true way to balance mayoral power.
Cayo and Reana Akthar, a student who served on the panel until August, are arguably the most powerful teenagers in New York City public schools. But they have struggled to make headway on the panel.
Akthar, whose seat on the panel is still unfilled, petitioned for greater teacher diversity and better policies around mental health care for students. Cayo has focused on curriculum reform so that students see "more of their culture in the books and the history that we learn," and increased hiring of guidance counselors to help students prepare for college and the job market. Both think their ideas have failed to translate into tangible action from the PEP.
"When you look at the agendas of the DOE and Chancellor Banks, it's completely full speed ahead on Magnet Schools, instead of listening to what me and [Akthar] have been saying for the last two years," Cayo said. "We want more redistribution of the money that is going into these schools to the neighborhood schools around them." 
Without voting power, the student representatives said they have to trust that the voting adults listen to them carefully and consider their ideas. Instead, the students said they often feel tokenized by the adult members. 
"I've never felt like what we were saying could then become policy," Akthar said. "They don't really want to hear what we actually have to say."
Jasmine Cobham, a senior at Medgar Evers College Preparatory School in Brooklyn and a youth advocate at Teens Take Charge, a citywide coalition of high school students that advocates for anti-racist educational policies, said tendencies to ignore student perspectives extend outside of the panel. 
"I feel like a lot of people don't take students seriously," Cobham said. "They think, 'Oh, we're too young, we don't know what we're talking about.'" 
Cayo and Akthar said the number of student representatives should also increase to give a more diverse group of students representation. The DOE should also provide a full support team for student members, adjust meeting times to accommodate students' school schedules and foster an environment in meetings that is appropriate for teenagers, they added—suggestions supported by Salas-Ramirez and Sheppard, the only PEP members to respond to a request for comment.
When asked about giving student PEP members the right to vote, the DOE said in an emailed statement that "student voice should be at the core of all we do" and that inviting students into the decision-making process is "vital."
"Student voice is invaluable as we work to reimagine our system to better serve the needs of our young people, school staff, and community members," said the department's spokesperson Suzan Sumar. "It is a priority of this administration to give students a seat at the table."
The state law that governs the panel is set to expire in less than two years, giving legislators an opportunity to make changes before potentially extending the law. State Sen. John Liu (D-Queens), chairman of the state's New York City Education Committee, said the legislature will "continue to monitor" the panel to see "what additional changes, if any, should be considered."
"Giving student members a vote deserves more discussion that must include how best to reflect the interests of our student populations while still accounting for their legal status as minors," Liu wrote in an email.
Ultimately, Cobham said adults in power have to recognize that students are the ones directly affected by their policies. "We're the ones who are actually in the school."
A Refuge in Higher Education
Originally from Russia, doobneek hopes to pursue a graduate Degree in engineering with the hope that it would lead to a pathway towards receiving the H-1B visa. (Photos/Sunny Nagpaul)
A queer refugee takes a strenuous, houseless path to asylum.
By Sunny Nagpaul
Edited by Alicia Gajraj

At age 21, architecture student doobneek left Russia over homophobic persecution. They hoped in New York they could find educational and work opportunities. 
Upon arriving in the city in 2019, though, doobneek, who legally changed their name to symbolize freedom from their past, encountered a new set of challenges. They did not have the paperwork needed to apply for housing or jobs and had to enter into the city's shelter system.  
As an immigrant, they also had to find ways to both make ends meet and stay in the country. Permanent housing programs, like rapid re-housing and transitional housing services, are typically only open to individuals working or enrolled in schools, which often requires citizenship, green-card status, or the ability to show pay stubs. This is not an avenue many immigrants can take, doobneek says. Still, doobneek figured their best chance for staying in the country and finding a more stable home was setting themselves up for graduate school. 
doobneek sits with boyfriend Prince and their cat on Roosevelt Island. After struggling with securing housing and living in a congregate shelter, the couple now live a few blocks away from the tram that transports them to the island.
"I'm not like a citizen who can choose. I have no time to play and search for myself."
They worked at the shelter and applied for asylum. While they waited, they also decided to pursue a degree that would make them a competitive candidate for the H-1B, the most common type of work visa. It's available to people in STEM occupations and requires a bachelor's degree or equivalent experience in the specialized field, the latter of which doobneek had in architecture. It also offers admission for up to three years, and cannot be extended past six. Other common work visas, like the H-2A, are offered for seasonal and agricultural workers and cannot be extended past three years. 
Since doobneek was more interested in fashion, they decided to pursue an associate degree in applied science in footwear design at the Fashion Institute of Technology. They're also taking extra courses at Hunter College so they can eventually apply to graduate school for engineering, which would help them attain the H-1B visa.
"Everywhere they are searching for skilled immigrants, they are not searching for artists or designers," doobneek said. "I also have to think about my finances and my security. So many changes can happen to my life, and I'm not like a citizen who can choose. I have no time to play and search for myself."
Even once they decided on going to school, things were not easy. There was the two-year process of getting a Social Security number, building credit and saving for permanent housing, all while living and interning in the Ali Forney Center, an organization supporting young homeless LGBTQ people, and working jobs that paid under the table.
NYC homeless students 2020-21
NYC homeless students 2021-22
NYC homeless students 2020-21
NYC homeless students 2021-22
"I couldn't be approved for credit in the beginning, which was preventing me from getting an apartment," doobneek said. "I was moved to a congregate shelter where there were a lot of fights, violence. It was horrible." 
It was the dorms at the Fashion Institute of Technology that helped doobneek get out of the shelter system. Through numerous jobs and scholarships, they've been able to make enough money to afford living in the dorms, which, they said, are expensive but worth it.
"There was no privacy where I was living, there was no way you could store your materials there, I couldn't study there while also at Hunter, working part time, different meetings sometimes overlapping," they said. "It was at the end of my homelessness, entering F.I.T." 
They are set to graduate this spring, finally achieving their dream of having an arts degree. They were also accepted to New York University's transportation design graduate program in the fall. They are still waiting to hear back about attaining asylum.  
While excited about the future, doobneek remains concerned about the reality they and so many other immigrants face. 
"You cross the border," doobneek said. "But you still have borders with invisible barriers around you."  
Josue Reyes stopped by for a spontaneous look at Saturn's rings at a pop-up telescope in West Harlem provided by scientist Jay Holmes. (Photos/Jesús Armand Chapa Malacara)
In front of a KFC in West Harlem stands a launching pad straight to the cosmos.
By Jesús Chapa Malacara
Edited by Austin Cope
At the corner of 150th Street and Broadway in West Harlem, scientist Jay Holmes  positioned his telescope just so. Facing south, he aimed to the left of a two-hour parking sign and just below the arch of a traffic light. Little adjustments brought his target into focus.
Passersby looked on, curious but skeptical. This was Manhattan—the glare of its residents, and its lights, unavoidable.
A young man in a blue hoodie stepped up to the telescope, knelt on a pillow, peered into the viewfinder and concentrated. Suddenly, a cry of wondrousness.
"Oh nah! That's…crazy. That's crazy!" said Kasper Bentlee, 22, who lives nearby and stopped with a friend to take a look for the first time. "I've never seen something like that a day in my life. That's fire!"
Nina Mehlan with her mom Amanda McCreary and grandma Nina Mehlan.
No tickets are necessary to look peek at the universe through Holmes' telescope.
Jessica Mudry with daugher Sophie Hines-Mudry.
For Holmes, it's a personal extension of his work at the museum to spark a sense of "nature near me" in the everyday lives of New Yorkers.
The setup was an unofficial, one-man outpost in a constellation of public astronomy efforts across New York, some organized by the city Parks Department. It is, possibly, the sole stop for spontaneous astronomy in this part of Harlem. It is definitely the only place for it on this otherwise quiet, nondescript corner.
Holmes works at the American Museum of Natural History, helping more than 900 middle-school teachers to develop curricula in "earth science, ecosystem stuff and evolution." He found the telescope in a construction-site dumpster outside of a private school on the Upper West Side, a few blocks from his job.
For Holmes, these peeks at Saturn's rings and Jupiter's moons are an extension of his work at the museum to spark a sense of "nature near me" in New Yorkers. He said he hopes to find other volunteers in the neighborhood to organize regular, science-focused events. 
"And it doesn't involve a ticket purchase," he added, smiling.  
Inspired by similar events in Central Park, where stargazing can attract hundreds and feature celebrity guests like
astrophysicist Neil deGrasse Tyson
, Holmes started sharing his telescope on this corner with the community in the months leading up to the pandemic. COVID forced a pause, but he ventured back out late this year.  
"There is that surprise factor. Some people expect it on the West Side, on Central Park West,"  said Holmes, who is originally from western Massachusetts but has lived in West Harlem for the past decade.
 "I kind of like just hauling something out and having it [be] a surprise—serendipity," he added.  
Holmes and his telescope have begun to attract a following, with word spreading online in one of the local Buy Nothing Facebook groups, where community members post things they're giving away and share sightings of sidewalk finds. 
On Nov. 2, local mom Glenda Holland posted a photo of her child looking through the telescope.  
She implored her neighbors to hurry by to get a hold of something that would not fit even in the most spacious New York apartment—something that could only be measured on a cosmic scale.

"Free trips to the moon," her post read.
Reporting assistance for this story by U-Jin Lee
Managing editors: Jesús Chapa Malacara, Anacaona Rodriguez Martinez
Web producers: Sandra Lopez, Wyatt Stayner
Photo editors: Alicia Gajraj, Caithlin Pena
Data editor: Hannah Bottum
Social media editor: Taylor Johnson
Story editors: Chloe Bennett, Uvie Bikomo, Austin Cope, Zoltan Lucas, Lucy Papachristou, Kiara Thomas, David Westenhaver
Faculty advisers: Esha Ray, Jessica Machado, Christine McKenna, John Mancini, Jere Hester